At Merrillwood Pediatrics, our team consists of experienced, compassionate pediatricians and friendly, nurturing staff members who take pride in giving our young patients the personalized pediatric care that they deserve.
We understand that you have a choice of pediatricians in the Royal Oak area, and we appreciate your consideration. We can assure you that you'll feel confident in our ability to meet all of your expectations.
All of our pediatricians are highly educated professionals who have undergone rigorous academic and clinical training in pediatrics. We maintain a high level of expertise through continuing education in order to provide the most up-to-date care for the young patients we are privileged to serve.
Merrillwood Pediatrics believes in a team approach to your child's health and well-being, so all of our doctors collaborate with parents to provide the highest level of care. We appreciate the opportunity to care for your child and pride ourselves on making pediatric care a pleasant experience for all of our patients.
---


Leanne Wisniewski, D.O.
Dr. Leanne Wisniewski joined Merrillwood Pediatrics in 1999. She obtained her undergraduate degree from the University of Michigan in 1991 and her medical degree from Des Moines University in 1996. She completed a pediatric residency at St. John Hospital and Medical Center in Detroit in 1999.
Dr. Wisniewski is a board certified pediatrician and a Fellow of the American Academy of Pediatrics. She is on staff at Royal Oak Beaumont Hospital . She is married to Don and has a daughter, Ava, and a son, Joseph.
---

Dr. Nicole Peltz has been a physician with Merrillwood Pediatrics since 2002. She completed her undergraduate training at the University of Michigan and received her medical degree from Michigan State University College of Osteopathic Medicine.
Dr. Peltz did her pediatric residency training at St. John Hospital and Medical Center in Detroit. She is currently board certified and a member of the American Academy of Pediatrics. She is married and has two sons.
---
Dr. Laska was born and raised in the Metro Detroit area. She attended Wayne State University for her undergraduate degree in Biology and graduated in 2000 from Wayne State University School of Medicine. She completed her residency training at Beaumont Hospital in Royal Oak and joined Merrillwood Pediatrics in 2003.
Dr. Laska is board certified in pediatrics and a member of the American Academy of Pediatrics. She is married with three children . She is fluent in Ukrainian.
---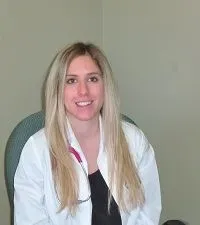 Stephanie Marcus, M.D.
Dr. Stephanie Marcus joined Merrillwood Pediatrics in 2016.She earned her bachelor's degree from the University of Michigan and then earned her medical degree from Albert Einstein College of Medicine of Yeshiva University in New York City. Dr. Marcus completed her residency training in pediatrics at Beaumont Children's Hospital in Royal Oak.
Dr. Marcus is on staff at Beaumont Hospital in Royal Oak and also teaches in the pediatric resident clinic. She is a member of the American Academy of Pediatrics.
Mary is a Pediatric Nurse Practitioner and graduated from Wayne State University in 2004. She has a master of science in Nursing and Certified as Pediatric Nurse Practitioner also in 2004. Mary has many years of pediatric nursing both in the hospital and outpatient setting. She has clinical interest in children of all ages. She hopes to partner with the patients and families that she cares for to promote healthy life styles and wellness. Mary looks forward to serving the patients in this practice with compassionate and competent care.
Mary is married and has 4 daughters.